History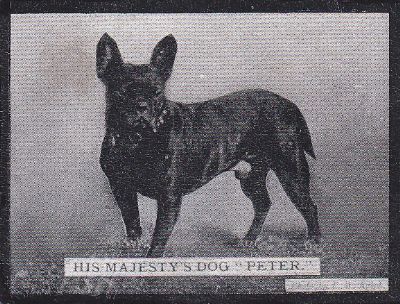 Peter a French Bulldog could be seen on the lap of King Edward VII
A brief history

The origin of the French Bulldog is to this day, still somewhat of a mystery. Historians of this breed have found that what is generally known is that around the mid 1800's in the south of England, the English Bulldog which was renowned for it's strength and tenacity, was somewhat smaller than bulldogs in other regions of England.

In the Nottingham region, textile workers were being made redundant by machinery (the industrial revolution) which forced them to travel to France in large numbers to find work. These workers quite often took along their small bulldogs with them onto the ships. It is generally surmised that seamen liked the small sized dogs because they were easier to smuggle aboard ship and keep out of sight during the voyage. Consequently many small bulldogs found their way across the English Channel as pets. As these workers lived in such restricted living quarters in their 'new country', they needed something to kill the rats that were manifest in these quarters. Their small bulldogs were perfect for this task. There is much speculation, but it is theorised that these bulldogs were bred with terriers, thus producing the bat-like ears we see on the French Bulldog today. In later years these French Bulldogs became favoured by the high society classes as well as the Parisienne 'ladies of the night'. French Bulldogs were popular with the wealthy Americans and they shipped many off to the States.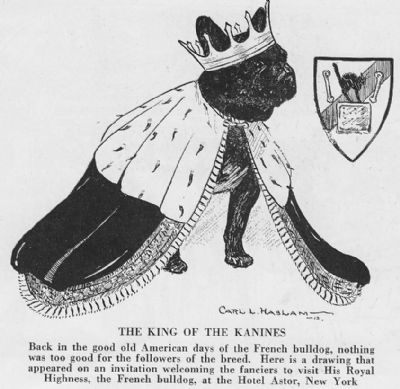 The french bulldog first appeared in the United States in 1896 at the prestigious Westminster Kennel Club's show in New York. French Bulldogs were popularly nicknamed 'Frenchie', a name that has stuck with them to this day. They were a small to medium sized dog weighing under approximately 12.7 kg with short hair and of a muscular build. They were basically a scaled-down version of the Bulldog, or as many people call them, British Bulldogs. What set them apart from the Bulldog were first and foremost their bat-like ears which are held erect, their smaller size and their high level of energy. They had a lively disposition and expression which some described as fun-loving and roguish. They have been described by some as a 'clown in a philosopher's cloak'.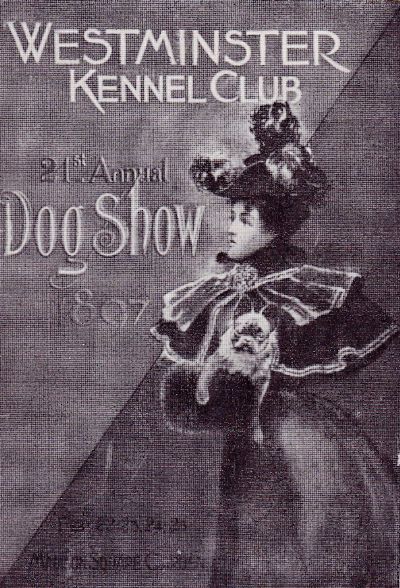 The War of the Bat and the Rose Ear
Fight won by the French Bulldog Club of America now world-widely approved. In 1897 in the United States, exhibitors were disappointed that an English judge awarded a French Bulldog with 'rose' (not bat-like) ears as best of breed. The bat ear was then considered an undesirable feature in England. Favoured was the rose-eared french bulldog that in minature form most resembled the English Bulldog.
Some of the exhibitors at the Westminister Kennel Club show rallied a meeting and subsequently formed the French Bulldog Club of America (the first French Bulldog Club in the world) and the next year adopted a breed standard which remains essentially unchanged to this day. It was in the United States that the French Bulldog's bat-like ears were standardised, their smaller size (compared to the 'British Bulldog') maintained by a weight limit and their variety of colours adopted.
The French Bulldog is a breed that owes it's existence to breeders in countires from France, America, England and Germany.

--------------------------------------------------------------------------------------------------------------------------------------------------------------------------------------
WAR DOGS WORLD WAR 1

YMCA Cigarette Dog delivery service during WW1.
'Mutt' a "trench runner' Frenchie delivered cigarettes and comfort
to the soldiers. He was wounded twice and spent most of WW1
boosting moral of the 11th Engineers,
shown here carrying cartons of cigarettes for the troops.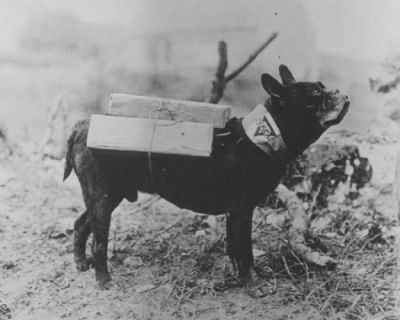 With the wars end the mascots were usually left behind
but Mutt was fortunately smuggled on board.

When he was discovered and under threat of being thrown overboard
his saviour said they'd have to throw him overboard also.
Mutt returned safely to New York.

Photo care of War Dogs: A History of Loyalty & Heroism.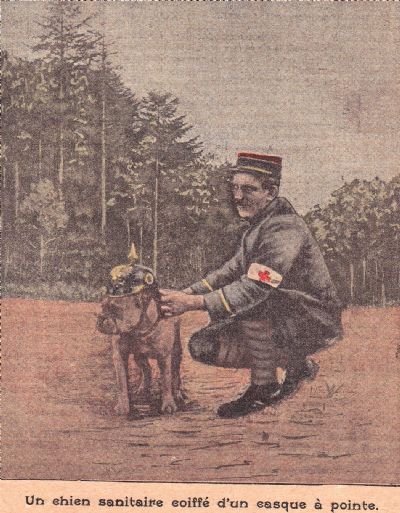 The French Bulldog, among other breeds, were trained to carry medical supplies
and give comfort to the soldiers of WW1.

Photo care of Le Pelerin Revue Illustree De La Semaine.

April 1915

Contact Details
Jenni Cameron & Lem Awdjew
Brisbane Valley-Brisbane, QLD, Australia
Email :
ouioui@bigpond.com